In the summer of 2015 Middle Finger To Cancer's founder, Trent Twaddle, was a seemingly healthy thirty-two-year-old financial analyst living with his new wife in Houston, Texas. Following his wedding in May, Trent was seen by an orthopedic surgeon to evaluate a small lump in the palm of his right hand. The lump was first thought to be a common fibroma – a non-cancerous mass. After several weeks of physical therapy with no improvement, an MRI indicated suspicion of cancer.
A core needle biopsy was performed at the MD Anderson Cancer Center. The Division of Pathology studied the tissue specimen and results were returned soon after. Trent was informed that the lump in his hand was a sarcoma. More specifically, a Myxoinflammatory Fibroblastic Sarcoma.
The doctors informed Trent that surgery to remove the sarcoma would likely destroy his hand and almost all of its function.
After the initial shock, thoughts turned towards getting a second opinion. Soon after, Trent saw Dr Edward Athanasian at Memorial Sloan Kettering in New York. Dr. Athanasian confirmed the diagnosis, but suggested a possible alternative to immediate amputation - Isolated Limb Perfusion (ILP) with Tumor Necrosis Factor-Alpha (TNF-a), a cancer treatment that is not available in the United States.
By this time Trent had lost most of the normal function of his right hand.
Since the preferred treatment was not approved in the United States, Trent's next stop was Paris, France where he was hospitalized at Gustave Roussy Cancer Campus. He endured a 7-hour procedure, where a mixture of TNF-a and melphalan (Alkeran) was delivered to his tumor via ILP.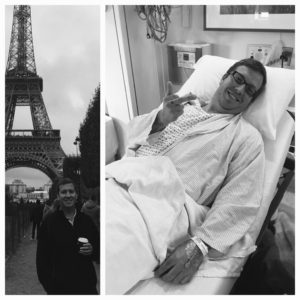 Left, Trent Twaddle in Paris, France preparing for Isolated Limb Perfusion (ILP) with Tumor Necrosis Factor-Alpha (TNF-a), a cancer treatment that is not available in the United States. Right, the last photo of Trent with his right middle finger intact.
Trent then returned to Memorial Sloan Kettering in New York for six weeks of radiation therapy. In the spring, a follow-up MRI revealed remarkable shrinkage of the cancerous tumor. Trent had also regained most of the function and dexterity in his right hand.
On March 16th Dr. Athanasian performed a meticulous surgery to remove what remained of the sarcoma. The life-changing procedure was an overwhelming success, but cost Trent his middle finger. After 9 months of trials and procedures, the worst was behind him.
Trent was finally cancer free! He literally gave the "Middle Finger to Cancer."
Today Trent continues to monitor his progress with his doctors and will continue to do so for a number of years. All reports to date are positive and promising.
"I'm truly grateful for all of the support I have received from friends and family while battling cancer. I realize how much effort everyone put into my journey, and I have made it my goal to help others defeat sarcomas of the limb. This very reason is why The Middle Finger To Cancer began."
From left, Amanda, Trent, Polly and Bruce Twaddle giving the middle finger to cancer. Family and friends were Trent's largest supporters during his battle and victory over limb sarcoma.
Middle Finger To Cancer stands with patients seeking treatment for sarcomas of the limb, providing benevolent assistance to lessen their burden and help them fight their battle. Additionally, MF2C encourages the pursuit of alternative medical opinions and treatments in order to defeat sarcomas of the limb.
It should be well noted that Tumor Necrosis Factor-alpha in Isolated Limb Profusion has been successfully utilized in Europe for twenty-plus years to treat limb sarcomas. As part of its mission, Middle Finger To Cancer actively encourages the drug manufacturers to submit the treatment to the Food and Drug Administration (FDA) for approval in the United States.